Social Media
Focus on your social space + increase your brand's online presence. It was never so important to have a consistent brand experience across channels.
Social media is ever-changing and we change with it. Using best practices in the industry, we develop a metric-focused strategy to bring you new customers and keep loyal ones.

We handle the creation of your social media strategy, so that your social media presence and online communication are in sync.
Result-driven

Proactive Approach
We pride ourselves on both quality work and measurable results. And we do it by treating your project as our own.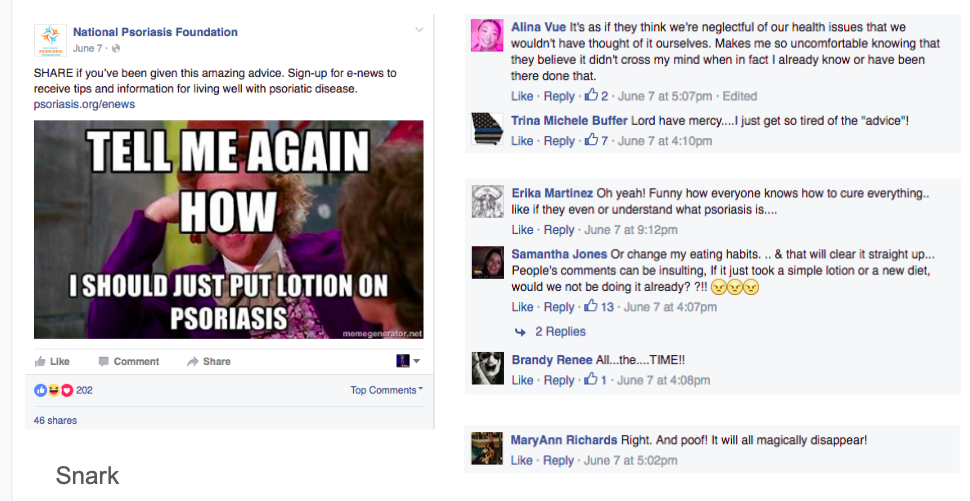 Simple solutions
to help thousands of people
National Psoriasis Foundation
Our social media clients include small- to mid-sized companies and nonprofits. From robotic palletises to treating eczema, we've got experts on everything.
Goat helped National Psoriasis foundation to have a dialogue with their audience and make their voice more powerful.
10 times
growth in email subscriptions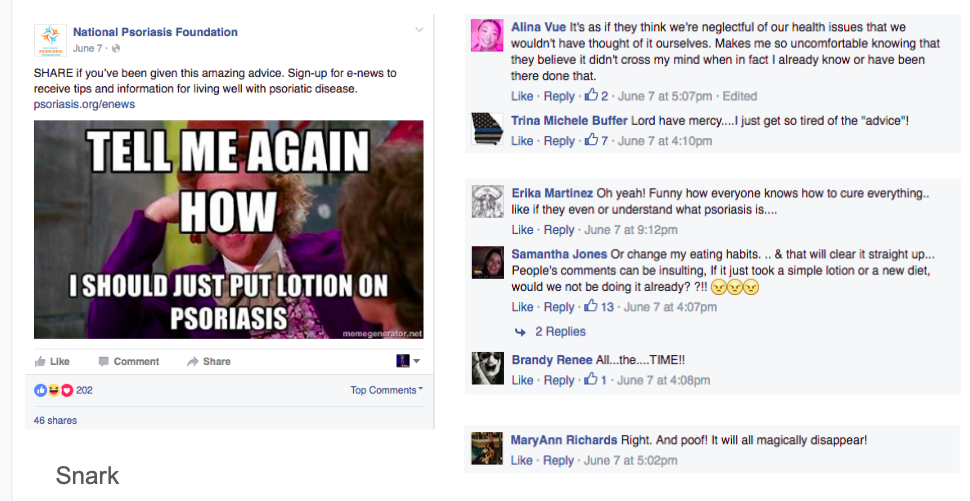 Competitive Analysis
We review competitors and the industry landscape to give you the best strategy possible
Social Media Audit
We look into the current state of your social media affairs and gain insight into how well your channels are working to meet your goals
Social Media Strategy
We build and rebuild websites from the ground up that attract and convert visitors into clients
Data and Analytics
Tracking data is at the heart of our digital philosophy and a focus of our ongoing work
We believe in the importance of process. When we tackle tough problems, we may go into uncharted territory but we do it with a tested process at our back.
Intake Interview
We listen to your business objectives and the role your website plays to the company. We look at what team you have internally, and what support you need externally. Every client is different and our goal is to understand your specific circumstance.
Discovery and Research
With your business objectives in mind, we dig in to your existing analytics and data. We look at how your users are interacting with the site, or any other properties you have. We review competitors and the industry landscape and present all of these business findings to you before we collectively make recommendations.
Social Media Strategy
Your Social Media Strategy is your battle plan. It lays out how we will use new and existing trends. We figure how your company can use social media best. What will give the best return on your investment? We address both the services we have on offer and the ones we don't - all focused on you. We go deep with this and this is the foundation of Goat Digital. Once done, we do a milestone and checkoff so that you have clarity at every stage.
Design
We take your existing branding and design language, and apply it to the social media. This provides a united message for potential clients. After rounds of revision, there is a milestone and checkoff so that you always know what we'll be building.
Launch
We put our posts for the world!
Refinement and Support
Once live, we typically move towards an ongoing retainer with clients that offers strategy support and data and analytics to help drive growth.
Why involve GOAT in your social media project?
What sets GOAT apart from other agencies is our focus on metrics, and understanding what influences those metrics. We understand why users do what they do because we track their behavior.

Yes, we have all of the other 'agency' things too. We have award-winning designers and incredible developers. Our foundation is set. But it's our focus on data, analytics and research that truly set us apart.
Couldn't find what you're
looking

for?
Explore our full range of digital services