Grow your CBD business with our eCommerce agency services
eCommerce agency services that include launches & innovative redesigns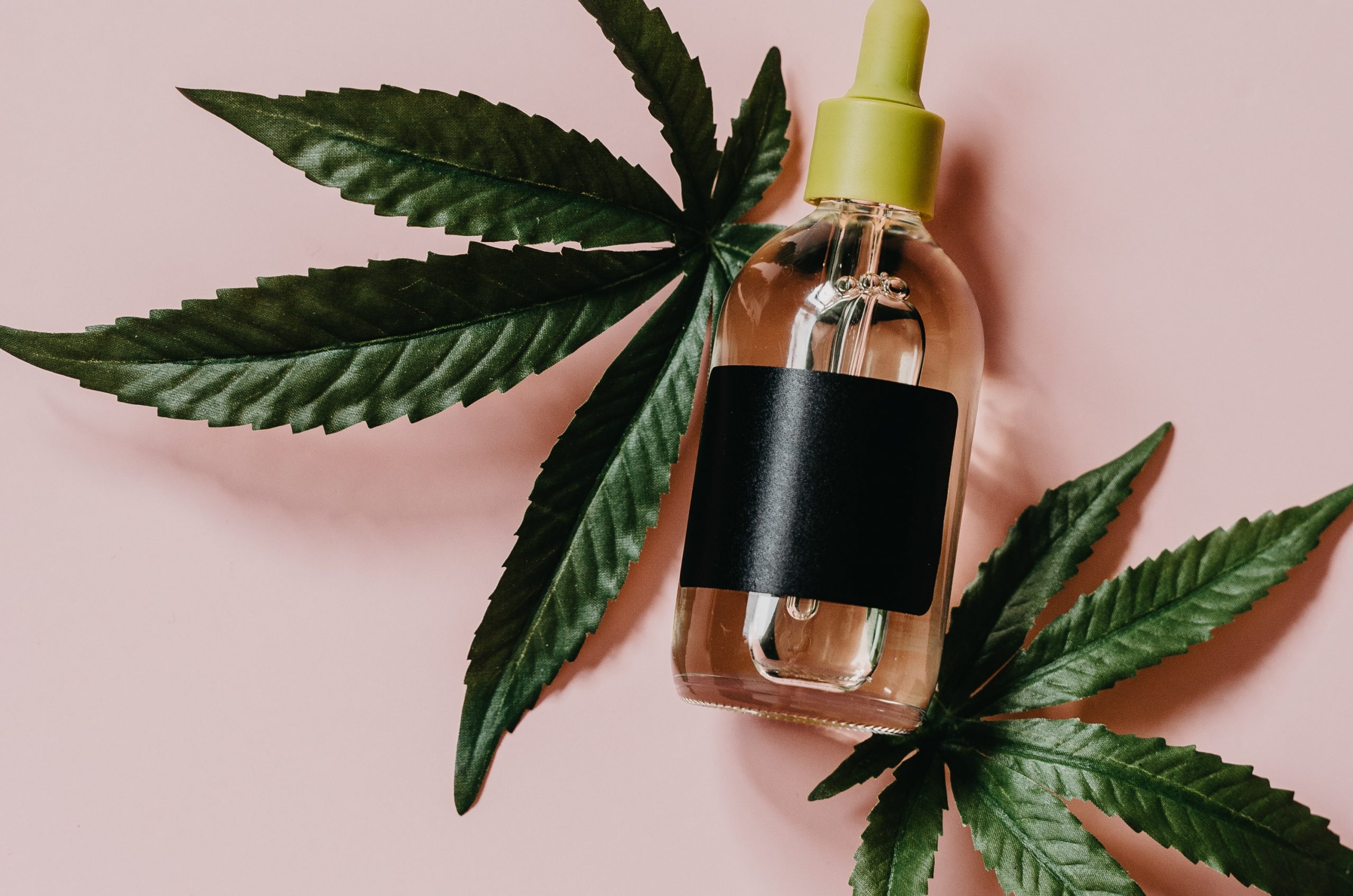 Why

do I need a CBD eCommerce agency?

As a CBD eCommerce agency, we have mastered the art of navigating the unique challenges of the CBD industry. Our innovative solutions and strategies have helped our clients find continued success in the market. In today's digital age, it's not enough to rely solely on website sales.

To truly succeed, it's essential to provide a consistent brand experience across all channels and meet customers where they are. That's where a CBD eCommerce agency like ours comes in - we can help you craft and execute a successful omni-channel strategy.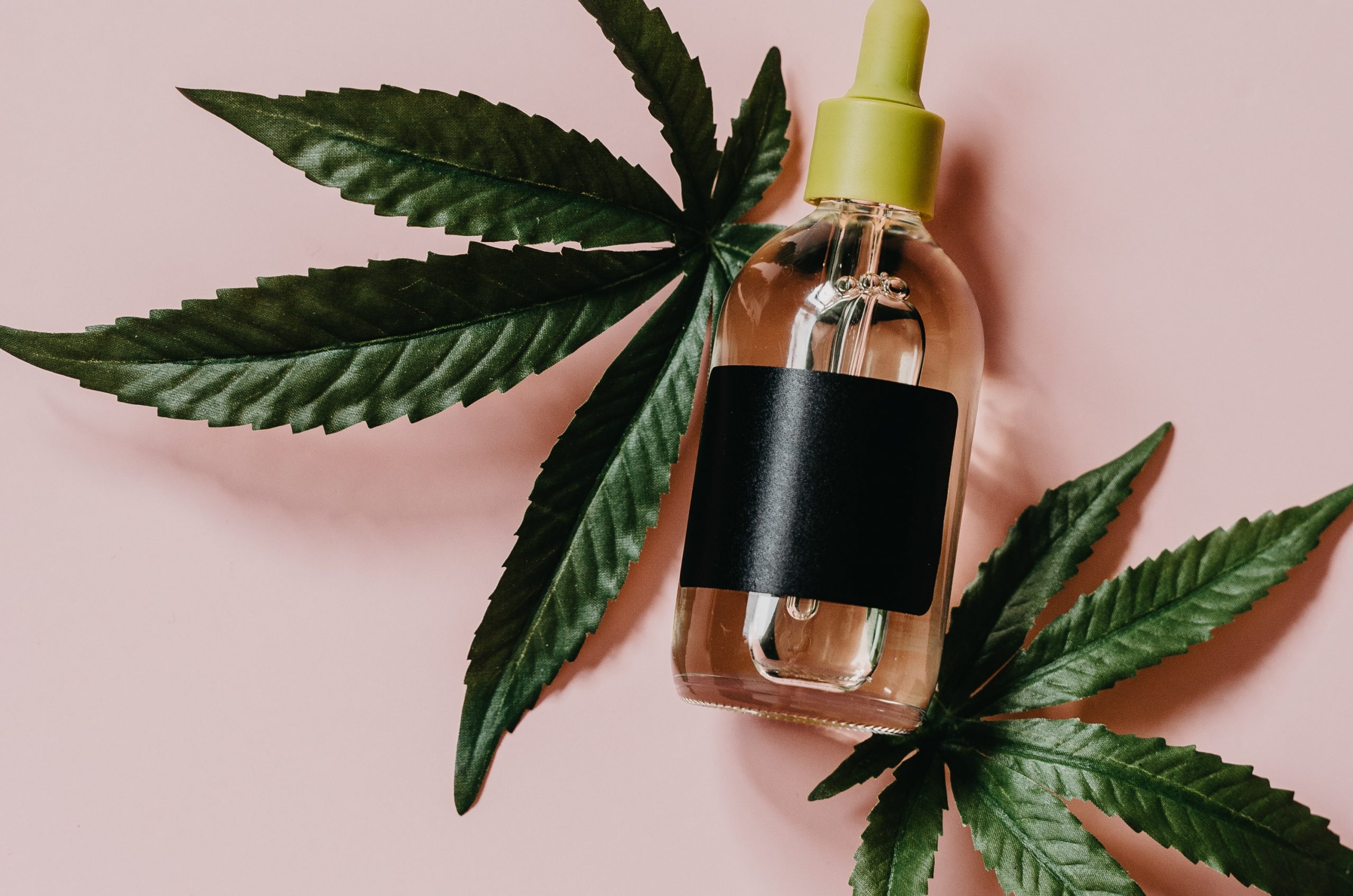 Why

involve GOAT as your CBD eCommerce agency?

What sets GOAT apart from any other CBD eCommerce agency is our focus on metrics, and understanding what influences those metrics. We understand why users do what they do because we track their behavior.

Our team is backed by clear processes and project management that does what it takes to meet deadlines and goals, while building clear consensus among management teams to find a path forward. We don't sell magic – we are a CBD eCommerce agency that combines creativity with a clear process guided by succinct strategy.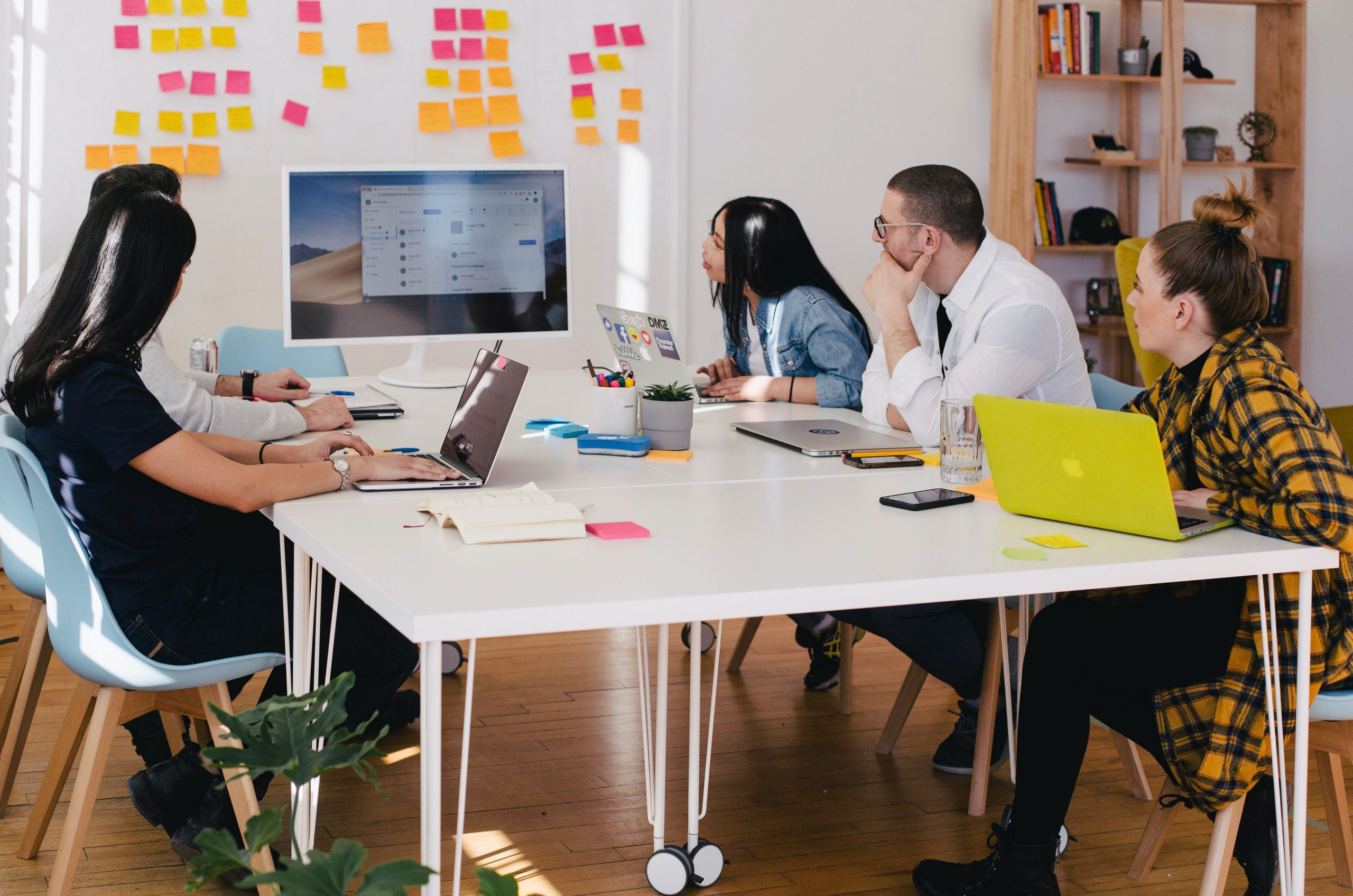 What

is it like working with GOAT?

We have a strong focus on data and analytics. We include strong analytics to help you continue to navigate performance throughout the life of your CBD brand.

We use data and educate. To us, an educated client is a great client. We explain jargon and give analysis. We come with solutions, and explain why they are solutions.

We are a transparent CBD eCommerce agency. Our processes and reporting peel back the curtain so you have a clear understanding of the work being done.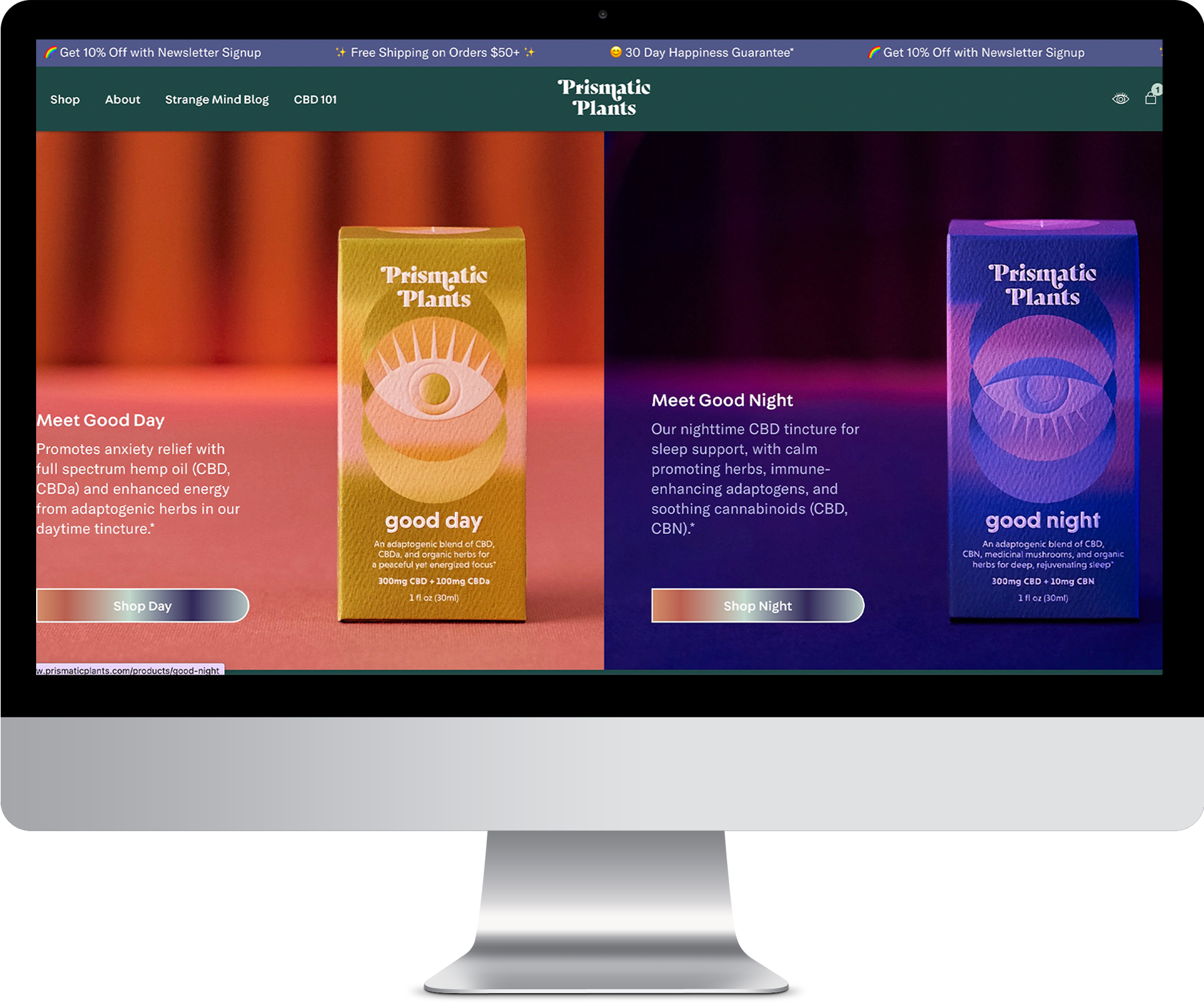 Working

holistically to drive quality traffic to the their website

Prismatic Plants

Prismatic Plants came to us to create a digital marketing strategy that included SEO & PPC working holistically to drive quality traffic to the their website.

Our main goal with our digital marketing efforts was getting Google Ads approved & generate leads from these. As part of our digital marketing strategy we also audited their landing page to find improvement opportunities.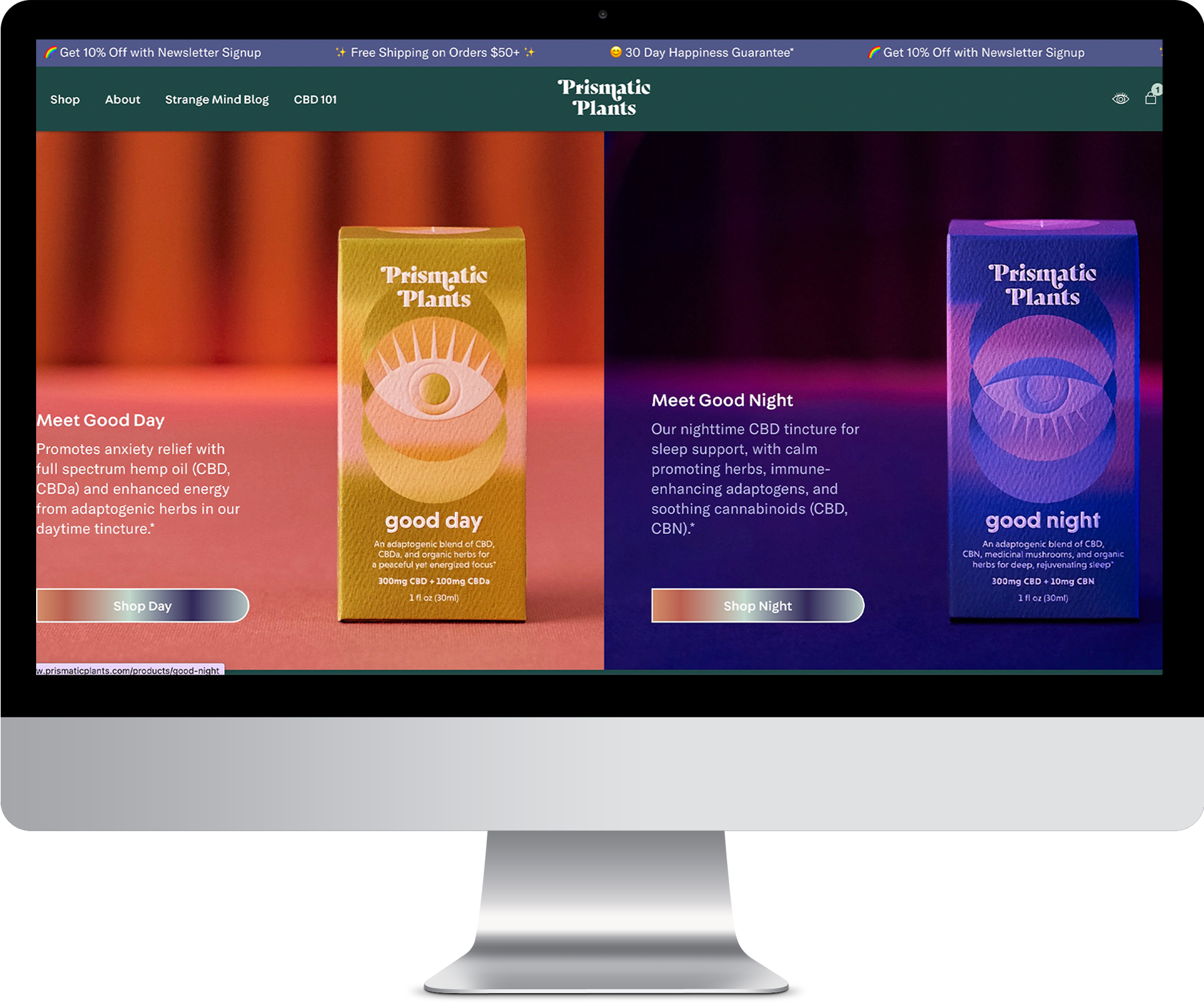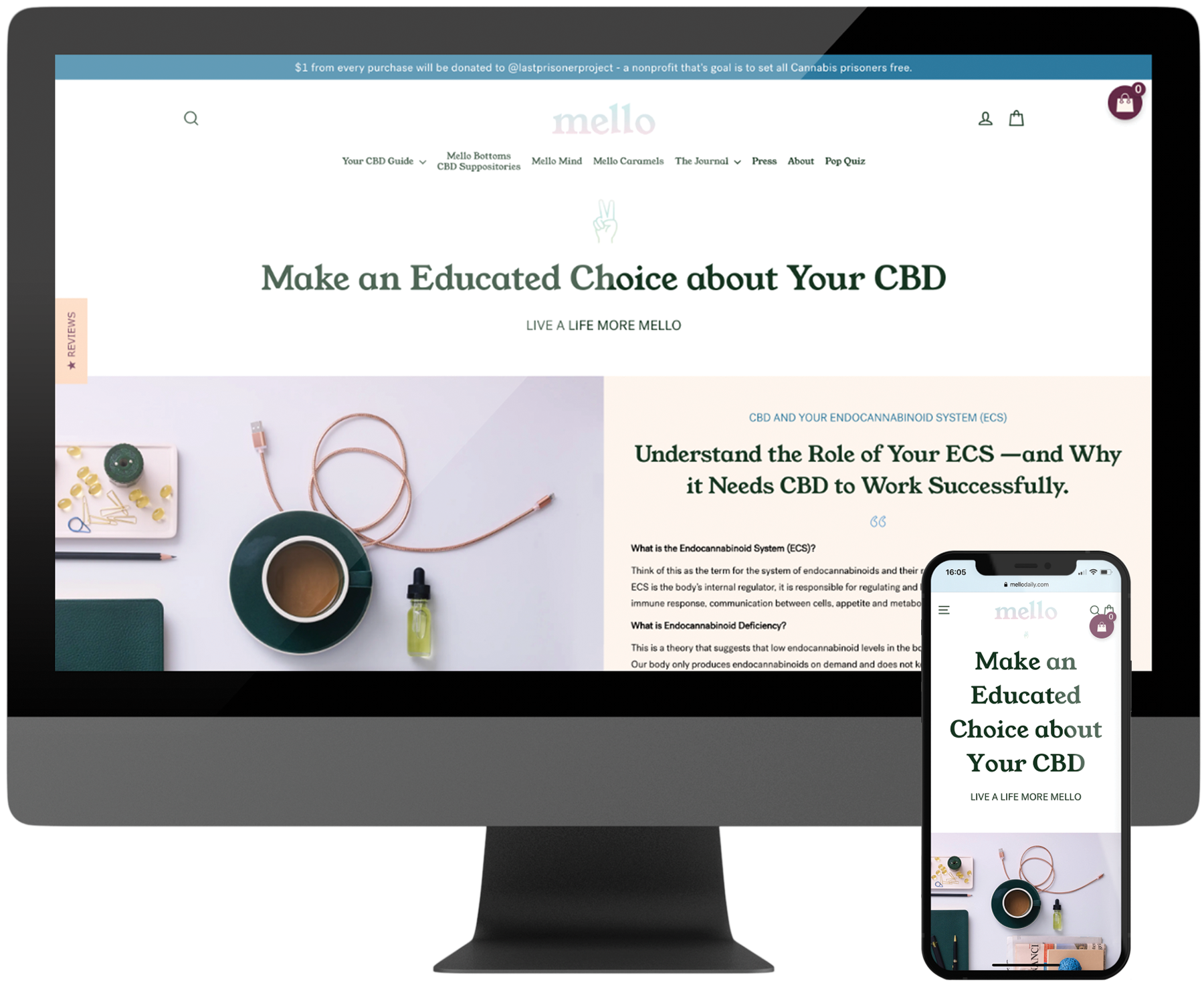 Providing

online advertising solutions

Mello

GOAT developed a duplicated site that enabled Mello to create more landing pages & advertise their products via Google Ads.

We also developed a custom code for a dynamic 'Buy Button' that allowed Mello to move customers from landing pages directly to the shopping cart on their main site without duplicates in Google Analytics. It also provided an easier shopping experience for site users.

Web Development
We build and rebuild websites from the ground up that attract and convert visitors into clients.

eCommerce Adoption
We will adopt your eCommerce store like our own. As your CBD eCommerce agency we're happy to provide services that bring support, maintenance and feature improvements for stores that we didn't originally build.

PPC & Ad Buying
We implement a 360 strategy to reach potential customers while they are searching for products or services.

Shopify & Shopify Plus
Shopify is a fully-hosted cloud-based solution that is easy to implement, gives access to a rich store of plugins, and has great design templates to be able to launch something quickly.

Data and Analytics
Tracking data is at the heart of our CBD eCommerce agency's philosophy and a focus of our ongoing work.

SEO
Traffic from Google reigns supreme, if you hire GOAT as your CBD eCommerce agency we will help you attract quality clicks through SEO strategies.
We believe in the importance of process. When we tackle tough problems, we may go into uncharted territory but we do it with a tested process at our back.
Intake Interview
We listen to your business objectives and the role eCommerce services play to your CBD company. We look at the team you have internally, and what support you need externally. Every client is different and our goal is to understand your specific circumstance.
Discovery and Research
With your business objectives in mind, we dig into your existing analytics and data. We look at how your users are interacting with the eCommerce site. We review the CBD industry landscape and present all of these business findings to you before we collectively make eCommerce recommendations.
Digital Strategy
Your Digital Strategy is your battle plan. We figure how your company can use our CBD eCommerce agency services best . Which strategies will give the best return on your investment? We address the services we have on offer all focused on your business.
Execution
When we get buy-in on your strategy, we execute. This looks different for every project. Once done, we do a milestone and checkoff so that you have clarity at every stage. Our project managers will lay it out for you.
Optimization
We can always do better. Here is where we prove it. Our CBD eCommerce agency centers around 'Conversion Rate Optimization'. We put on our science hats and we do experiments. Do your users prefer X headline or Y headline? Do your users prefer a button here or there?
Support
We want long-term relationships. We want your site to convert. We lay the foundation during execution and then via analytics reports, quarterly deep-dives and strategy updates to raise the bar higher.
If you can't find the answers to your questions feel free to reach out
How

can I use eCommerce for my CBD company?
CBD eCommerce is more than just selling products online. We understand that CBD products face more restrictions and regulations than other types of products. Our CBD eCommerce agency can help you overcome these challenges by utilizing strategies to build or consolidate your brand and connect with customers. If you choose to hire us, we will assist you in growing your CBD business.
How

can GOAT help me improve my eCommerce strategy?
Each client brings their own unique set of challenges. eCommerce sales vary depending on the industry and whether the company is large or small. By choosing GOAT as your CBD eCommerce agency, we can help create an online eCommerce shop that effectively converts for your CBD brand.
Discover your company's full
potential
Other ways we can help your CBD company make the most of digital marketing
If you want to know more about CBD eCommerce feel free to reach out
Wider Customer Base
eCommerce stores are not limited geographically, they are open 24 hours a day, seven days a week. Online businesses are not restricted to shoppers within walking distance of a physical location. You need a CBD eCommerce agency to make it possible to reach consumers in various ways.
Customer Data Insights
Another benefit of hiring GOAT as your CBD eCommerce agency is the ease of collecting, analyzing, and acting on consumer data. An eCommerce store can monitor and evaluate how often a buyer purchases products or views other items, allowing you to tailor your products based on consumer preferences. Our CBD eCommerce agency will assist you in evaluating and benefiting from a continuous feedback loop of actionable insights to enhance your customer experience.
Increased Profit Margin
Hiring a CBD eCommerce agency that offers services to manage your eCommerce store will increase your revenues by growing profit margins. If you choose GOAT as your CBD eCommerce agency, we will provide detailed reports and recommendations to help you make the best decisions for your company.
Applying
best practice

from multiple industries
Creating holistic digital strategy, actionable tactics and expert implementation